Hola! What's this? Two posts in one week? Well, I did promise.
So we had a little chat about my somewhat taxing type 1 day earlier this week, where this fair condition occupied more of my brain power than is desirable. I fixed lows, corrected for highs, and again, and again. Twas wholly fun.
BUT the point of these posts is not to wallow in the tiresome and endless navigation of blood sugar control (sigh) but to stop, reassess, and realize that we're actually doing a damn good job despite the midnight 2.2s and the late night 16.7s.
So as promised, some tips that help me bounce back from the days when type 1 is a big, ugly, attention-seeking pain in the arse.
Disclaimer: these are absolutely not instructions; I am not telling you how to live your life, nor am I undermining the seriousness of the condition. I am simply offering you some ways of thinking that have steadily but surely really helped my attitude to my type 1 and thus, subtly and quite subconsciously, my control as a result. This in turn has enhanced my life. ✌️
1. Try to keep the bigger picture in mind.
We make MILLIONS of decisions over a lifetime, most of them without a second of conscious thought. Waking up and testing. Testing again, and again, each and every day. Guestimating carbs, remembering repeat prescriptions, explaining the robot sticking out of your leg to someone new. You are GOOD at this, you just don't give yourself credit for the decisions you're rocking every minute of every day. One less than ideal day is not going to make difference.
It helps to realign your perception of failure. By all accounts that day was a 'failure' because I hit 18, and then 3, and then again, which equates to rather sad bad blood sugars which makes me a terrible diabetic. But I see it as a success (in parts!) because I navigated each tribulation as best I could, lived to tell the tale and had an otherwise glorious day in which I had a good workout, learnt some new things, got to hang out with my best friend and eat guacamole. An avocado day is a SUCCESS my friends. It's all about the value you place on it, and that, ultimately, is a choice.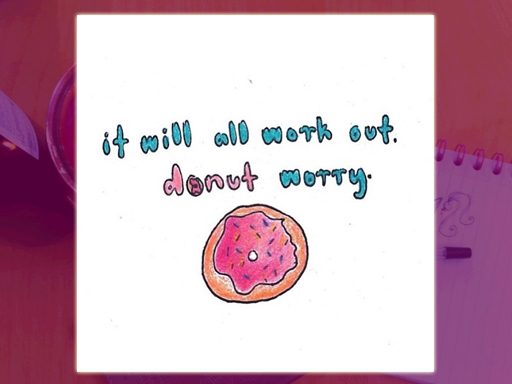 2. Exercise with type 1 takes practice, and it isn't about the weight!
I get a lot of emails saying 'I can't exercise because I'll obviously go hypo and then I'll have to eat and so there's no point even exercising in the first place'. That is not going to help you in any way whatsoever. When I first started training for my Big Challenge (aka cycling to Paris and running a half marathon), I was hypoing all over the shop because I just wasn't yet aware of how my body would respond to different types of exercise, and how THAT varied at different times of day, after different foods. Just like anything else, this takes practice. Your body is a very unique tool that you need to tune into to understand it better. And you've got to work WITH it, not against it… which leads me onto the point that EXERCISE IS NOT JUST ABOUT WEIGHT.
Exercise for diabetes management, or for being a rational human being is absolutely kickass, and weight control is the teeniest tiniest part of this. Exercise for me is an ongoing habit that makes me feel incredible, sorts my head out, makes my body work in the way it's supposed to and over time it helps keep my blood sugars down, and my insulin requirements slightly lower. Sometimes that means four sweat sessions a week, sometimes it's only twice, sometimes nothing more than a nice Sunday stroll. But it's always there, and not because ohmygodI'msofatIneedtodobeskinnyrightnow.
I used to think like that, and it just set me up for failure over and over and OVER again. I wobble in places yes, but my body is strong, my cardiovascular fitness is killer and my mind is balanced and healthy. If you move regularly, like properly MOVE, your body will slowly start to change. But it really shouldn't be your main focus if you're not going to fall into this 'all or nothing' dangerous trap. And if you DO end up hypoing, just like I did the other day? That doesn't negate any of the above at all.
Ps. Girls, lift weights. They make you feel superhuman.
3. Don't dwell – move forward.
This comes back to what I was talking about in Pt I about letting it take over your day because you've suddenly resigned yourself as useless and thus worthless. We are all entitled to get frustrated of course, but overall your peace with this condition is a choice. Just like your peace with yourself, and the way you think, is a choice. You can easily drown in type 1 – its complexities, its stubborn-mindedness, its ability to turn your wonderful day into a slightly terrifying one when you're caught hypo without a chocolate bar to hand.
But you can also just crack on and be all the things you are. An artist, a dancer, a hilarious story-teller, a good friend, a traveller, a supreme bagpipe player, whatever you want. Keep pushing, and don't let a five minute hypo take all the good things from the remaining 23 hours and 55 minutes of your day. Ok, maybe allow yourself a two minute rant. TWO MINUTES. Hypos are shite.
4. Don't strive for perfection – it's unattainable.
We've spoken above about our perception of failure. But similarly, striving for your perception of perfection is thankless and tiresome and just a waste of your precious life and energy. Whether that be to be a size 8 or to achieve perfect control, all of the time. Don't do it to yourself. Just don't; save your poor battered body and mind the abuse, step back and be nice to them for once. Have you ever thought about how amazing your body is – how somehow it copes with this condition every day and keeps you breathing, moving, thinking, tasting, seeing and smelling? How much you've achieved despite having this absolute ballache of a condition?
I don't know how it came to be the norm for us to berate, chastise and reinforce these mean toxic thoughts upon ourselves. It's also a self-fulfilling prophecy – if you're mean to yourself, it will hold you back from experiencing life, it will make you a sad person who may pass that anger/bitterness/sadness onto others. It will leave you locked in your room instead of going out and becoming a human with dreams, hopes, ambitions, experiences, memories. WE ABSOLUTELY HAVE TO BE NICE TO OURSELVES TO LIVE.
What I found was pivotal to developing this further is to find things you LOVE and DO THEM EVERY DAY. Quitting my pants job to start a post-graduate diploma in broadcast journalism was one of the major triggers that started my journey to self-acceptance (and in turn responsibility for my own condition), because I had a purpose and was pursuing a passion. I was surrounded by people who shared these interests and the possibility of pursuing a career I really wanted gave me a lust for life that I'd lost, and a VALUE that I hadn't had for a long time. Pay attention to the things you love and nourish your brain with them. This will take the focus away from more negative thoughts and the shit moments like being able to only find dregs of stale, flat, full fat coke at 3am (MY TEETH! THE SUGARGHHHH) won't seem so devastating, on balance. Annoying, yes. Devastating, no. And do it for YOU – if you're denying yourself love and approval, you will be constantly seeking it out from others, which takes the value of yourself out of your control.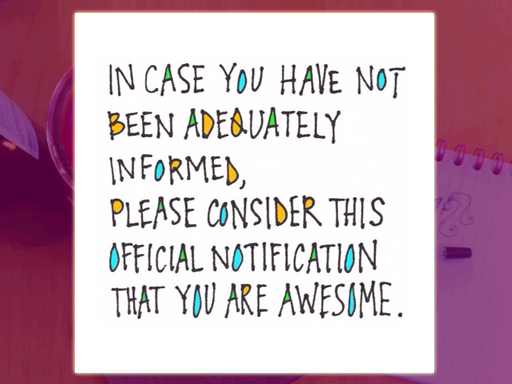 5. Trust the universe… to a point.
I sometimes look at other people and wish I had their career, their fortune, their hair, their pancreas that works. It's so easy to look at what we don't have in relation to others – especially our peers. But if I shut these ridiculous thoughts up for a minute, I can see that I have many things in my life that other people can only dream of – it's just that I'm too busy wishing for someone else's existence to appreciate it. Wallowing in self-pity and believing that you have a bum deal is going to do nothing but enforce how crap your life is in your own mind. Trust that you are where you should be right now, and that the right things will present themselves when you're emotionally ready.
But at the same time, get out there. Experience, learn, grow, enjoy, move. It's not going to come knocking at your bedroom door as you fester under the covers at the mercy of your own thoughts. And the shit stuff in life? Well, yes of course I wish I didn't have to deal with a disease that requires constant self-management for all eternity. But I can also safely say without doubt I'm a better person for having type 1. It's taught me so much. And if you can't see any of that, well… go out and spite it. Despite the bullshit, or the bullies, or the non-working pancreases or whatever it is, go out there anyway. No, I don't have thousands of pounds in the bank, no I don't have a working pancreas. But if it came down to it, would I swap what I DO have for those things? My sight? My ability to laugh? My lovely home? My gorgeous, kind, inspiring friends? My healthy family? Not a chance.
This in time, will lead you on the right path, to the right place – potentially one of those places you look at others occupying and wish it was you. And then you'll REALLY be a superhero, because you'll have done it while you're casually contending with a bugger of an autoimmune disease at the same time.
<3
Little favour – if you like this empowerment/positivity stuff can you let me know in the comments below? I don't really feel I have the authority to speak to it, but I do have the authority of my own experience, and from the emails I get I know a fair few of you struggle with this stuff. Similarly if you think I should shut the hell up, feel free to tell me that too. Nicely. Thanks.